KKU Active Recruitment Virtual Open House 2022
EN News | 2022-03-15 00:00:00 | Read 1,148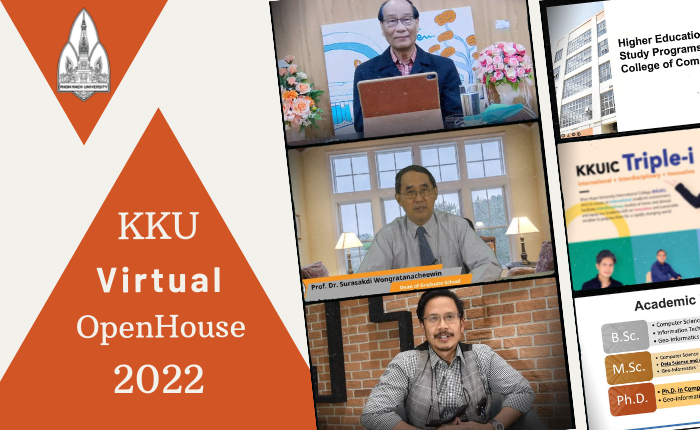 On 12-13 March, 2022, Graduate School and International Affairs Division hosted KKU Virtual Open House 2022 for KKU Active Recruitment Project online via Zoom Meeting. There were more than 200 participants from ASEAN counties and China attend to this event.
An opening speech was given by Professor Dr. Surasakdi Wongratanacheewin - Dean of Graduate School, to warmly welcome the online participants from ASEAN Countries and China who are interested to study at Khon Kaen University.
On this occasion, the Dean established the purpose of the event "We are hosting this virtual open house intentionally to let you experience our university and the programs of your interests. In today's gathering, it could be a great opportunity to know more about us and to prepare yourself for studying at Khon Kaen University."
Khon Kaen University provides 97 undergraduate and postgraduate study programs for international students with partial and full scholarships offered under the KKU Active Recruitment Project. Representatives from various study areas of Health Sciences, Sciences and Technology and Social Sciences and Interdisciplinary Programs attended the virtual open house to provide study information and advice to the participants. Also, current international current joined in to share their experience and suggestions for the candidates about studying at Khon Kaen University.
KKU Active Recruitment Project is now calling for high potential international applicants from ASEAN Countries and China. Those who are interested to study at Khon Kaen University can submit the application from now on to April 15, 2022. Please find more information at https://activerecruit.kku.ac.th/
News: Saranya Saejung
Photos: Saranya Worawiset / Agung Purwa Widiyan
ภาพประกอบ